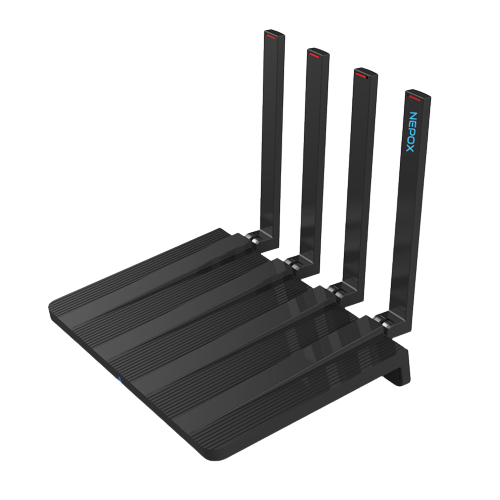 Nepox Shield WiFi 6 Series
Introducing the Nepox OX-1800 WiFi 6 Router: Elevate Your Connectivity with Maximum Protection for Your Home Network
Unleash a new era of wireless networking with the Nepox OX-1800 WiFi 6 Router. This state-of-the-art router not only amplifies your connectivity experience but also seamlessly integrates with our groundbreaking Nepox cloud AI-Powered Intrusion Detection and Prevention (IDP and IDS) services, creating a robust shield for your digital realm.
Key Features:
Revolutionary WiFi 6 Technology: Harness the power of WiFi 6 technology for rapid speeds and unparalleled performance. Whether you're streaming, gaming, working, or connecting, experience seamless efficiency and minimal delays.

Standalone Excellence: The Nepox OX-1800 WiFi 6 Router excels as a standalone WiFi router, delivering expansive coverage and top-tier connectivity for your home or business, ensuring a seamless online experience across all your devices.

Integration with Nepox Cloud Security: Elevate your network's defense with our AI-driven IDP and IDS services from the Nepox cloud. The Nepox OX-1800 WiFi 6 Router seamlessly integrates with our cloud services, providing real-time detection and prevention of intrusions, bolstering your network's safety.

Maximum Protection for Your Home Network: With the Nepox OX-1800 WiFi 6 Router, you can enjoy the highest level of protection for your home network. Our AI-powered cloud infrastructure ensures that your network is safeguarded against emerging cyber threats.

Uninterrupted Streaming: Delight in buffer-free streaming and crystal-clear video calls with advanced Quality of Service (QoS) features that prioritize your most critical online activities.

Smart Device Management: Effortlessly manage your network and connected devices through an intuitive interface. Prioritize devices, set parental controls, and effortlessly monitor network activity.

Guest Network Capability: Establish a dedicated guest network to maintain the security of your main network while granting visitors access to the internet.
Benefits:
Elevated Connectivity: WiFi 6 capabilities translate to faster speeds, heightened capacity, and minimized latency, resulting in a seamless online experience across all your devices.

Maximum Protection: The incorporation of Nepox cloud AI-Powered IDP and IDS services ensures real-time threat detection and prevention, safeguarding your network from cyber intrusions.

Effortless Management: Take command of your network using user-friendly management tools, allowing you to customize settings and monitor network activity effortlessly.

Future-Proofing: WiFi 6 technology future-proofs your network, preparing it for the demands of an interconnected world. The Nepox OX-1800 WiFi 6 Router is a wise investment for lasting connectivity.

Seamless Fusion: Regardless of whether you utilize it as a standalone router or combine it with Nepox cloud services, the Nepox OX-1800 WiFi 6 Router offers seamless integration and superior performance.
Elevate your network experience with the Nepox OX-1800 WiFi 6 Router, a dynamic force that combines outstanding connectivity with cutting-edge security. Whether you're a tech enthusiast, a busy professional, or a family seeking steadfast connectivity, the Nepox OX-1800 WiFi 6 Router opens the gateway to the future of networking. Experience the ultimate protection for your home network like never before.